Flowers for Offices/Shops/Restaurants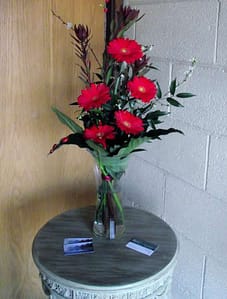 Simply Flowers are proud to supply a range of local businesses with beautiful and affordable flowers on a weekly or fortnightly basis. Your business style and your personal tastes are taken into account and you can be sure to have something unique, interesting and beautiful with each fresh delivery. Fresh flowers are proven to reduce stress and fatigue plus increase serotonin. Employees who work in an area with fresh flowers or plants tend to be more creative and innovative with problem solving as well as taking fewer sick days. Flowers can literally change the atmosphere in any environment and bring happiness and serenity with them. Simply Flowers provide a complete service where you can enjoy the benefits of regular fresh flowers with no mess or effort. We deliver a fresh arrangement and remove the old one so you're not left with a dirty vase to clean or smelly stems in your bin. How simple! We are happy to provide you with a free trial so you can see the benefits to your business today! Please
contact us
to chat through your requirements and budget.
Flowers for Churches and Flower arrangers
Simply Flowers happily work alongside Churches and flower arrangers to fulfil cut flower and sundry requirements. Simply Flowers receive fresh stock in regularly throughout the week. Provided with at least one week notice we can ensure any flower in any available colour is in our shop ready for you to collect and arrange. Please give extra notice if you require your flowers open – Lillies, Freesia, Iris etc. Remember, your flowers will be bought on the Dutch auctions the day before and shipped overnight. The stem price is not set until the flowers are purchased on the auction. Simply Flowers charge a minimal deposit on large cut flower orders. We supply all professional florist sundries in small amounts so you don't need to buy wholesale quantities. Pop in or phone us to discuss any requirements you have.